Walking from Lake Maggiore to Lake Orta
About the Walking from Lake Maggiore to Lake Orta trip
About the trip: Walking from Lake Maggiore to Lake Orta
Your walking holiday in the Italy lake region: With the Alps painting a dramatic backdrop, the Italian lakes offer a charming and romantic landscape to discover on foot. Over the years, this idyllic part of the country and wonderful climate have become home to many villas and magnificent botanical gardens.

You will discover the prettiest walking trails and admire the 'must see's' of the 2 beautiful lakes in northern Italy : Lake Maggiore & Lake Orta. The first stop is Lake Maggiore with its fairy tale setting and Borromeans islands, the majestic promenade of Stresa. You are then transferred to the summit of the Mottarone mountain at 1 489 metres. You stay in a typical mountain refuge, with a typical italian dinner and beautiful views of the Alps ! You end your tour by Lake Orta, the smallest and yet most charming of the Italian lakes.
You walk through olive groves and vineyards, past hamlets and quaint villages, and discover the Sacro Monte, a classified Unesco site. A paradise for any walker keen on lush nature and small, charming mountain villages.
Highlights of the trip
The best panoramic walking trails,

the

stunning scenery of Lake Maggiore & Lake Orta
Discover the beautiful gardens and villas after sailing to the Borromean Islands
1 night & dinner in a mountain refuge at the top of the Mottarone at an altitide of 1489m
The charming village of Orta and its Sacro Monte, UNESCO World Heritage site
Walk on lake and mountain trails and visit traditional medieval villages




Go Private or go guided ! Customize your holidays with a local specialist here
Walking from Lake Maggiore to Lake Orta: Day By Day
Day 1 - Arrival on Lake Maggiore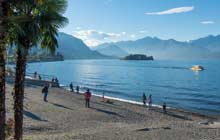 Arrival on your own in Stresa: a small, elegant town on the lake shore with majestic XIX century hotels, traditional narrow streets and Friday morning market. There are many small beaches along the lake for swimming.
Night  in Stresa


Market on Friday morning in Stresa


Access: 
. Flight : Regular flights and low cost airline to Milan : Milano Malpensa Airport (click here ) - Milan Linate Airport (click here ) - Milan Bergamo
. Train :
    . Milan City / Malpensa airport : Regular train lines to Como city 

on trenitalia

. Access information here  
    . Milan Linate airport & Milan Bergamo airport : Bus shuttle to Milan city and then train to Como city
Day 2 - The magnificent Borromean islands
Today, you take the boat the famous Borromean islands.
The boat runs all day between Stresa and the 3 islands : you can take your time and visit each island and discover the history of the family that had a profound effect on the history of France and Italy. 
 Isola Bella  with its 17th-century palace, Isola Madre with its famous palaces and botanical garden,  terraced gardens and magnificent exotic garden.  And finally,  Isola dei Pescatori,  a pictoresque little fishing village with narrow streets and lovely restaurants for lunch.  (Borromean islands entrance not included)

Boat transfer back to Stresa
Night in Stresa
MEALS included:  Breakfast
Day 3 - The chestnut trail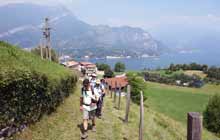 Stresa > the chestnut route > Belgirate
3 hours 30 - 8km / 4.9 miles - Ascent: +200 m / Descent: -200 m
Panoramic views on this walking trail overlooking the lake from Stresa to Belgirate, a charming village with traditional houses and flowered gardens along an old roman trail dotted with ancient chapels.
Return by boat or train to Stresa ( not included – not bookable in advance )
At the end of your walking day, you are transferred to the the summit of the Mottarone mountain at 1 489 meters. You stay in a typical mountain refuge, with a typical italian dinner and beautiful views of the Alps : a unique experience !
Please note : the refuge is very welcoming but still remains simple, with very simple rooms
Night & Dinner in Mottarone
MEALS included:  Breakfast & Dinner
Day 4 - At the top of the Mottarone mountain
Loop Walk – Mottarone > Monte Zucchero > Mottarone
3 hours 30 - Ascent: +200 m / Descent: -200 m
Panoramic loop hike to the Mottarone (1491m), one of the most remarkable natural balconies of the Italian Piedmont. Unique 360° panorama of the Alps, from Mount Viso to Mount Rose !
Transfer in the afternoon to Orta and the smallest yet most charming of the Italian lakes : Lake Orta.
Orta is a small pedestrian village listed as one of the most beautiful villages in Italy with its old stone houses and impressive mansions.
Night in Orta
MEALS included:  Breakfast 
Day 5 - Medieval Orta San Giulio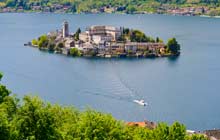 Loop Walk – Pella > Ronco
3 hours 30 - Ascent: +400 m / Descent: -400 m
You walk to the lake pier and cross the lake by ferry boat to the small medieval village of Pella on the western shore. Panoramic walk with a view of the lake through forests and small hamlets with a semi-mountainous feel. Upon arrival in Ronco at the end of the walk you can jump in the lake for a swim !
You then take the ferry boat to discover the tiny island of San Giulio, home to a basilica and a Benedictine convent. Back in Orta, you visit the famous Sacro Monte, a UNESCO World Heritage site, perched on the hill above the village, nestled in a huge centuries old forest.  It tells the story of the life of St Francois of Assisi  through 20 chapels decorated with colourful frescoes and life-size statues.
Night in Orta
MEALS included:  Breakfast
More walking trips in Italy Lake region
Walking from Lake Maggiore to Lake Orta
2

adults

(2x730€)

0

children

(0x730€)